Things have been busy around here. Kids haven't been sleeping well and are keeping us up most of the night. Besides that, I was stranded without a camera for the last one week, that's why couldn't upload new pictures. Well actually, I had the camera but no memory chip (mine has no internal memory aaarrgh!). But that eventually turned into a blessing because I could revisit old times!
But, there is something new and exciting going on here, we are on a hunt for a new double stroller. I was looking around and found a few options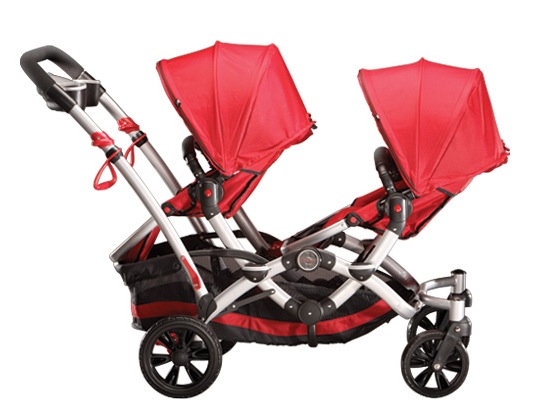 I wanted to get this one ever since I landed my eyes on it. The only thing that holds be back are the negative reviews that say it is too heavy to handle and cumbersome to fold. But, isn't it an eye candy? And in my budget too. The coolest thing is that you can face the seats any way you like, both facing each other, both facing away from each other, both facing you, both facing out. Pretty cool, huh?
And then there's one of these jogging strollers. I'm not much of a jogger but I like the ease with which these move not to mention that they look like some ride! The downside again is that these fold into a big mass which is difficult to fit into the trunk if you decided to do all your grocery
shopping in one day.
The search is still on and we should get one by the end of the month. When I was still pregnant I looked around for the top of the line twin strollers. I was ready to splurge on a really expensive one. I was of the opinion that if one likes taking the kids out a lot then a good stroller makes one's life easier and is worth the investment. Besides, it's something one buys just once, right? Wrong! This would be the third time we buy a stroller for the kids. Yes, the same two kids, third time.
Let me explain..
Till they were 6 months old, we used a double stroller stand. It was just a stand on wheels and all we had to do was secure their car seats on it. This was really convenient. The kids (then infants) would be in their car seats all the time, so even if they were napping we could just pull out the car seat and place it on the stand (and they were light sleepers so this was really good). It was also very light and easy to maneuver.
Surprisingly, most of the double strollers out there come with only one car seat attachment, that means it is meant for an infant and an elder sibling. There were a few that came with two car seat attachments but we didn't like our options.
So we decided to buy a stand and eventually buy a good stroller when the kids were old enough to sit and were out the infant car seats.
Come May 09, babies turn 6 months and its time to buy that new stroller we have been craving for, right? Wrong again! Instead, we buy plane tickets..to India.
Let me explain again...
Things changed in the 6 months, we made traveling plans and ended up coming back in early October (that's 5 1/2 months for those who aren't counting)! We thought it would be better to get two individual umbrella strollers (which made more sense to run around with at airports and train stations) rather than a big bulky twin stroller. Thus, these...
We were very content with them...until now. You see, my mother came back to stay with us when we got back and I always had someone to push the other stroller. She went back recently ( yes, we miss her a lot) leaving two adults, two kids, two strollers. As you can imagine it is impossible for me to take them out on my own. Hence the need for the third and hopefully the final stroller. Yeah, things aren't always straightforward when you have twins but I wouldn't want it any other way!
Oh and pls, if you have a suggestion for a good twin stroller, do share :)