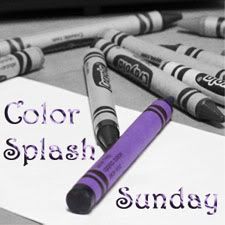 This week's Color Splash Sunday theme was of our choice. I thought that was pretty cool of Amy to let our creativity cross bounds (not that I don't love her themes of course!!)
I picked up this picture of Ryad, who was around 14 months old at the time, looking into my hand mirror.
You can tell he was playing with it for some time since you can see his fingerprints in the reflection.
Funny enough, he wasn't looking at himself at all. He was looking at his toys which were kept right behind him and was amused to find them in the mirror:)