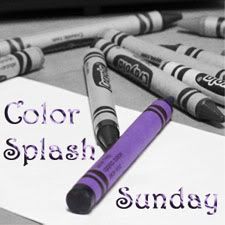 My creative blogger friend, Artistically Amy came up with this idea. Every Sunday, she picks a color and dedicates a photograph to that color. This Sunday the color chosen was
PURPLE!
Needless to say, Sunday is long gone and we have surely crossed paths with Tuesday. But, I thought I'd post the picture anyway because a promise is a promise, even if I didn't get a chance to post it on Sunday (or Monday for that matter).

At first I thought to my Self, "Dang Self! Where am I going to find PURPLE!

in my life

??". And then I just opened up my color receptors (and more importantly my window!) and found

PURPLE

splashed all over my world, I just hadn't noticed it.
This flower was completely

PURPLE!

, but the center of it had this bright, radiant hue of

PURPLE

that I had rarely come across before. So, I thought I'd pick this picture for CSS!

And here's another one, just for good measure! My son Nael about to slide down the

PURPLE!

chute.