This Black and White Wednesday is dedicated to my son Nael. These pictures are from 8 months ago, when he was a year old.
Nael loves books. Here he is, trying his best to get hold of the world atlas. Looks like Daddy was finally able to help him out!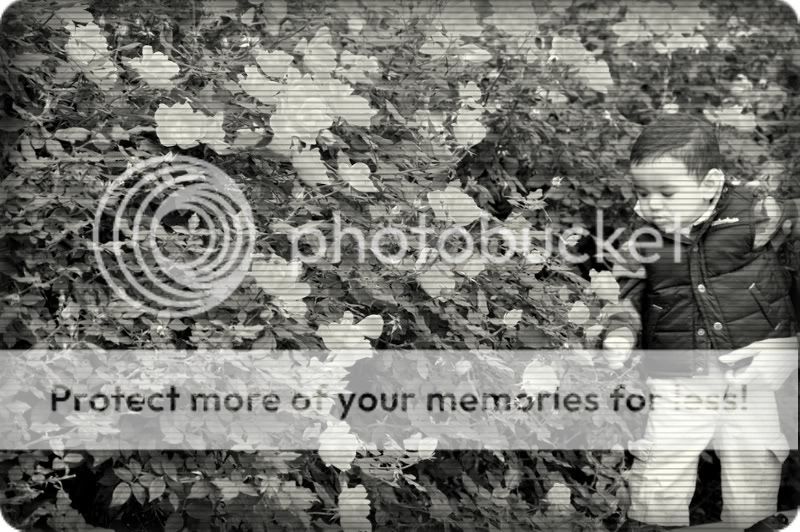 Oh and an avid nature lover too. What more can you want in a guy;). That's Nael next to a rose bush.
By the by, we had a fun filled weekend that included, trip to the Baltimore aquarium, a wedding, a farewell dinner and lots of good Indian food. My feet are still sore from all the walking at the aquarium but the dolphins make it seem worthwhile.
The best part? I received the Trendy Blogger Award twice in the same weekend. Now, how trendy does that make my blog?;)
Anyway I've not been so good at passing on awards so I think this is a wonderful opportunity to do so and appreciate all my blogger friends and friends who are bloggers.
First of all, thank you to Mama Hen and Katie for thinking of me!! I appreciate it so much.
•To receive this award, promise to share this with 10 other BLOGS that you think are Trendy too.•Post about your award in your blog.•List your Top 5 Trendy Blogs.•Share with them.•Leave a link to the Trendy Blog Button.•Tell them they need to give this award out to 10 as well.
I pass this award to the following wonderful and inspiring bloggers (in no particular order)
Check out her new look. I love her blog and I think Frank is the perfect welcome on the page:). Thanks for the award:)
A wonderful mother who has an adorable daughter and great stories to share about her life with her. It's amazing how she finds inspiration in things most of us take for granted. Thanks for thinking of me, I feel your blog is quite trendy:)
Another exciting blog that always has some story to share or some pictures to display. Never a dull moment here folks!. I like how she is so dedicated to her blog and tries hard to make it better by every post.
Her cute daughter Rida just melts my heart. A promising blog that is getting more interesting everyday.
Love her for her originality. She is truly creative and a wonderfully caring sister. Join in her Color Splash Sunday meme, its so much fun!
Of course, I had to mention a twin blog. Mother of twin girls who's names are as cute as them. Simply love her blog design!
Another twin mom! Her daughters are almost as old as mine and I just love sharing and exchanging twinie stories with her. Love her blog!
Love her for her amazing photos. She has a beautiful family and a great eye that capture the sweetness of her children.
The stunning Adriel (as I would like to call her) is a new mom who writes an amazingly interesting blog. I love how she says so many wonderful things in just one post and doesn't seem to run out of great things to say.
This twin mom has daughters as pretty as fairies. Love hopping by and checking out her wonderful pictures and reading about her adventures as a mother of twins:)